Some pages
are under development




Products
LissEllas mustard from Dalarna
It is easy to cook with LissElla's mustard,
the good mustard from Dalarna.
Artisan work with real taste, locally grown seeds and no additives.
World champion in mustard.
***
2019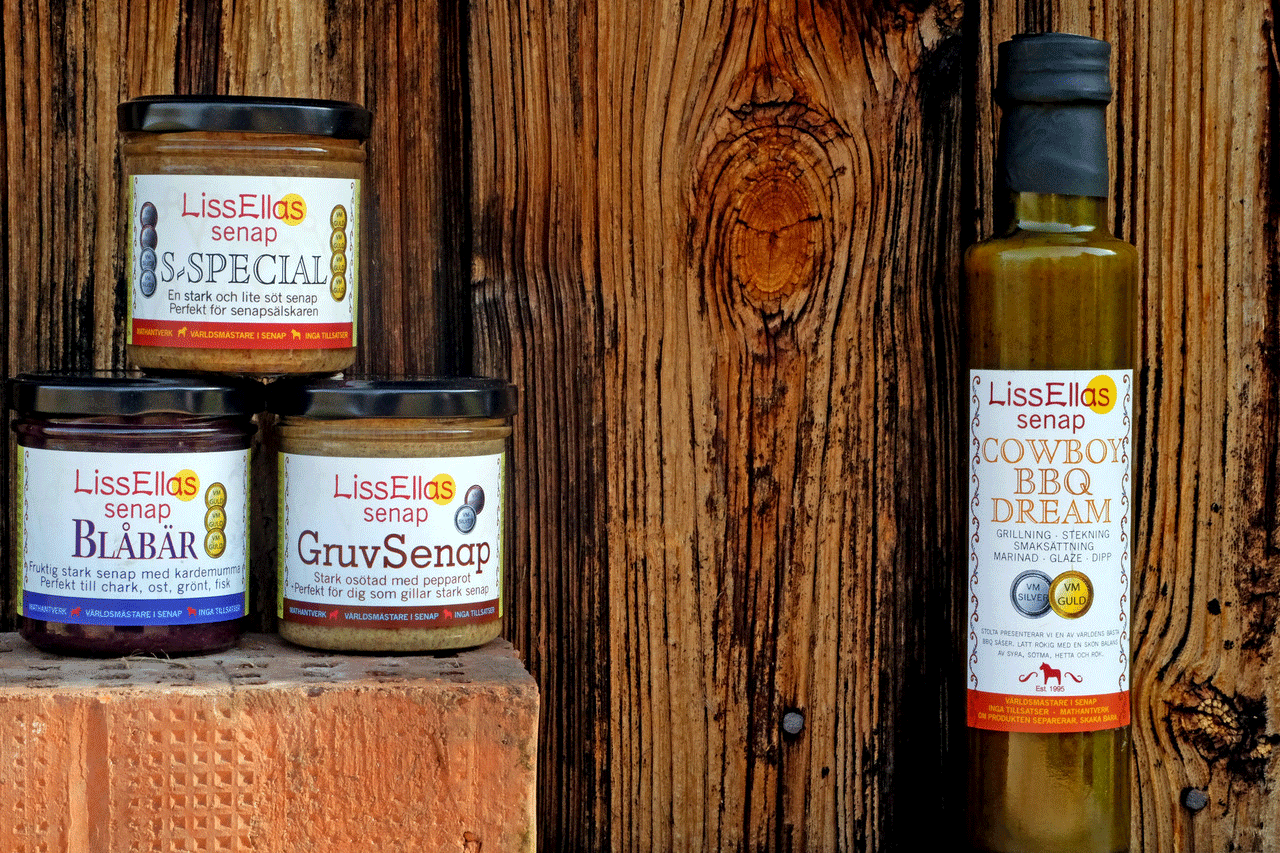 3 Gold - 1 Silver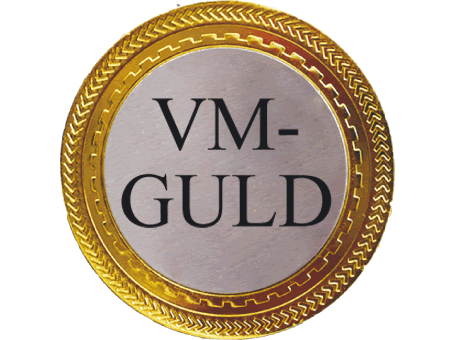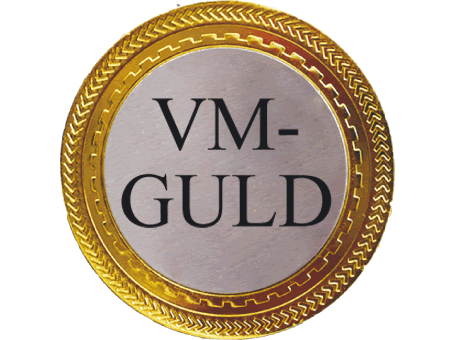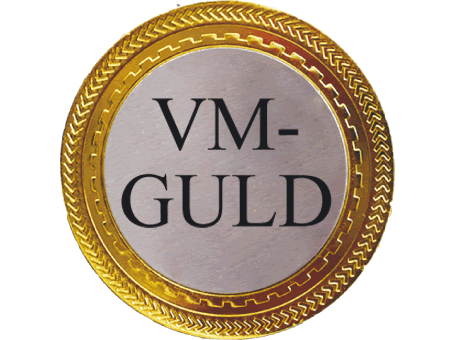 In 2019 when the 26th edition of the Senaps World Cup recently launched in Wisconsin, USA, it was LissEllas®, with the Dalarna's own mustard sweeping the carpet with competitors. Three gold and one silver are extraordinary. Gold for S-Special in the category Sweet and strong. Gold for Blueberries in the category of fruit mustard. Gold for Cowboy BBQ Dream in the BBQ Sauces category. Silver for GruvSenap in the horseradish mustard category.
World Cup in mustard
LissEllas has won 34 World Cup medals

LissElla's mustard has won World Cup gold twelve times at the mustard's unofficial World Cup! The World Wide Mustard Competition is decided annually in the United States where mustard producers from all over the world participate in different classes.
By all medals, LissElla's mustard confirms the position of one of the world's leading mustard producers in terms of taste.
The Mustard World Cup is decided annually in the United States where the world's largest mustard museum is located and around which there is a comprehensive and great mustard expertise. The competition is decided in three rounds with the selection stage, semi-final and final in each class. More than fifty mustard-trained judges participate in the intense tasting work.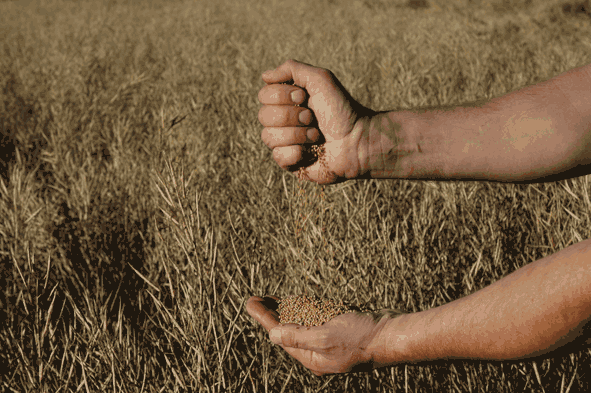 Our winning flavors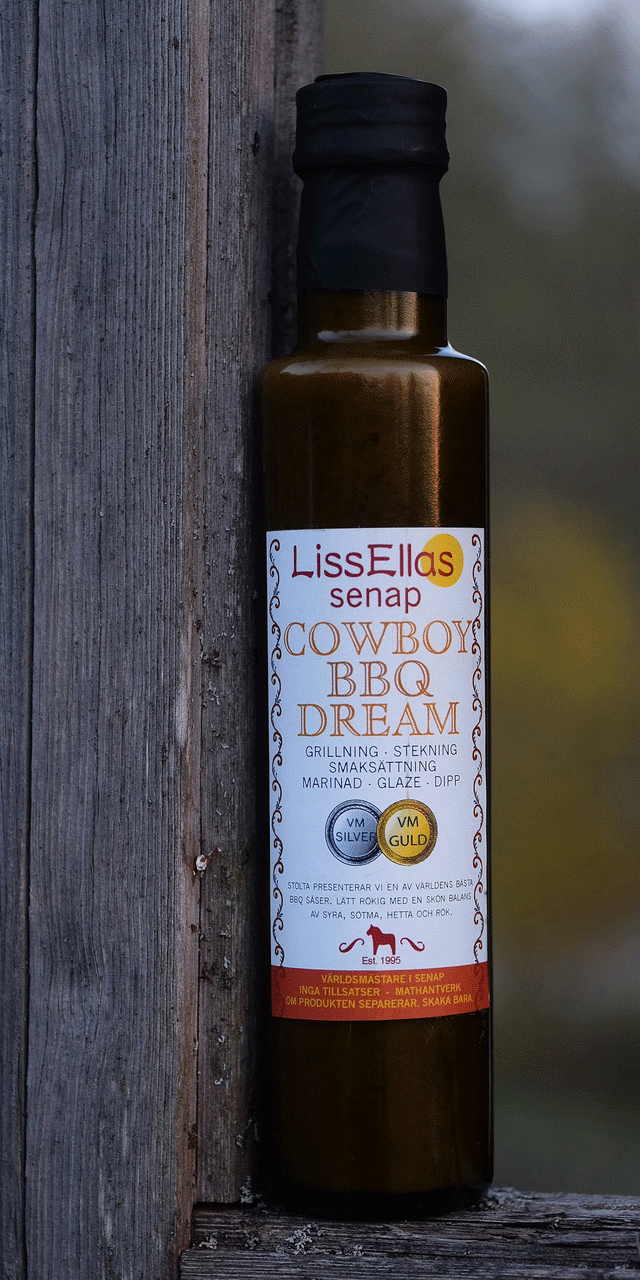 Cowboy BBQ Dream
A BBQ-dream
World Cup Gold
A slightly smoky whole mustard based barbecue and spice sauce. It has a nice balance of acidity, sweetness and smokiness. Beer from the local Oppigård's brewery contributes to a depth of taste that is always present and at the same time highlights the whole of the meal. Now rewarded with a gold and a silver. Even today, the cowboy is the hero and the image of freedom in the United States. In the Cowboy BBQ Dream, we combine this and the cowboy's tough endurance with the responsiveness needed to create true close experiences.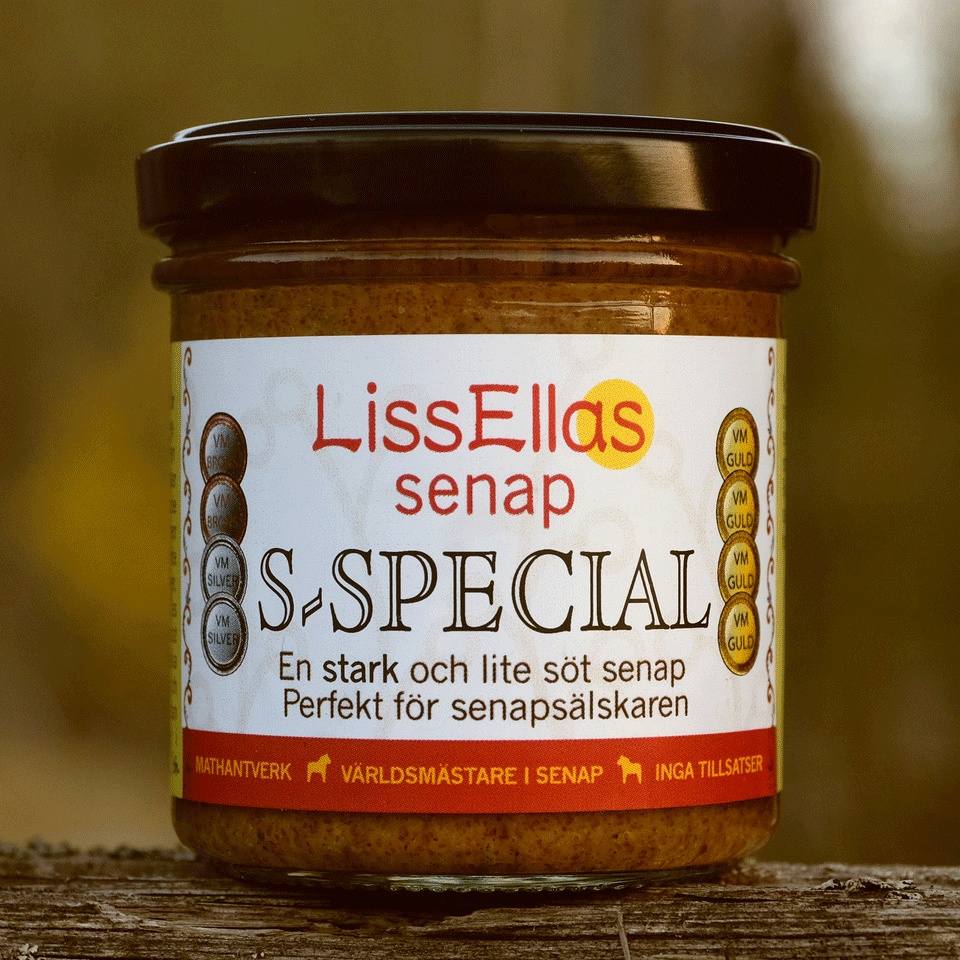 S-Special
Perfect for the mustard lover
World Cup Gold

If you love mustard, S-Special is perfect for most things that mustard is suitable for. Mustard mustard can be said. Over the years it has been our most rewarded mustard with its four gold, two silver and two bronze. It competes in the category Sweet & hot. The taste starts with a distinctly intense mustard character that is balanced by a full sweetness. After a while, the sweetness folds down and the force takes over. At the same time as the experience is powerful, there is LissElla's characteristic finely tuned taste nuances.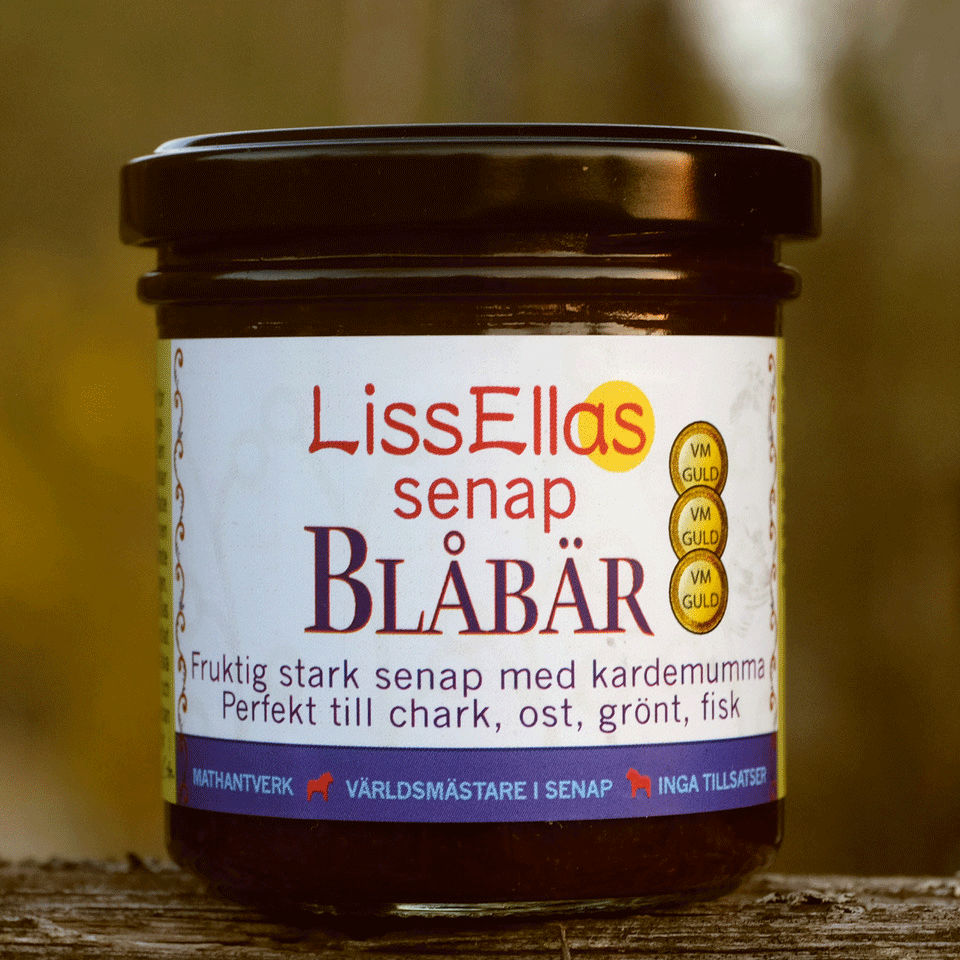 Blåbär
A fruity and exotic mustard
World Cup Gold
Hot, full-bodied, fruity, exotic with a ton of cardamom. A surprise in both color and taste that fits in the most diverse contexts. Blueberries are our Nordic super berries that conquer the world. Combining it with mustard was a challenge, but once the flavors sat there it has now captured three World Cup golds. Don't be fooled by the color. This is a strong mustard that at the same time gives room for the blueberry, cardamom and all the good you eat for it. Perfect for chark, cheese, greens or fish. It is really useful in so many different contexts. A winner worth a try.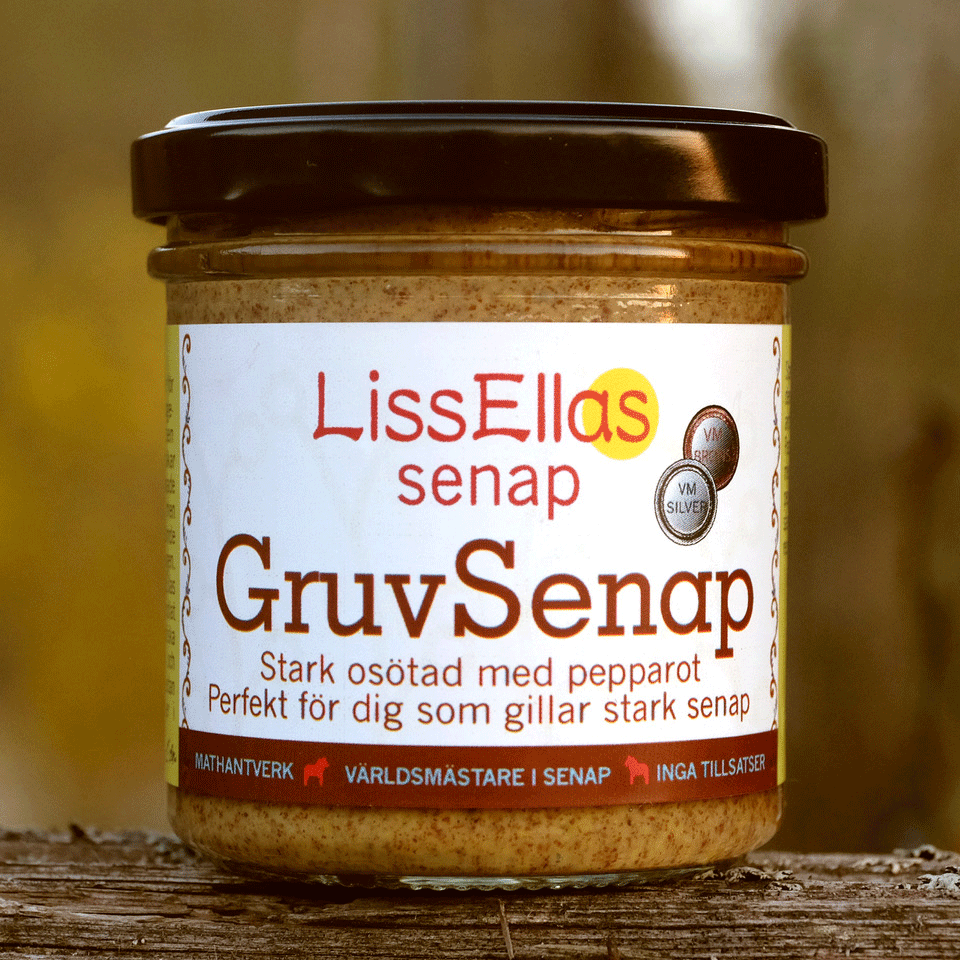 Gruvsenap
Strong as the bedrock
World Cup Silver

Unsweetened and really strong where the horse radish lifts the intensity. No additives, just pure raw materials. The mustard begins in the oral cavity and continues far up the nose. A powerful experience that is rewarded with lots of endorphins. A mustard inspired by the power and secrets of the ancient mountains. In Garpenberg, where mining has been going on for over 2000 years, we have our production. It works great in cooking or as an condiment wherever you like a real mustard taste. Suitable for sandwiches with smoked toppings and for pork or other meat, vegetables, whipped cream or sauces, pots, dressings and the grilled.
Visit LissEllas
this summer


A taste journey

that touches you
Let yourself be surprised by the world champion in mustard who offers you a fun taste journey. A personal meeting with the mustardmaster. Taste, see and hear about the fantastic world of mustard!
Open for bookings
Small intimit meetings or larger groups
or

Open 11/7 - 4/8
Monday-Thirsday kl 10-15

Welcome to us in southern Dalacarlia, Sweden..
45 medals, of which 15 World Cup golds
from the World Mustard World Cup in the USA
make LissEllas one of the world's most award-winning mustard producers.
By in our online shop
Click on LissEllas webbshop and chose
between 30 mustards, 3 dressings and
7 sauces for BBQ, cocking and so on
NEWS
Söt & stark
S-Special
Taffel
in practical bottle
The bottle is made out of polypropen (PP) plastic with an airtight seal that protects the mustard from oxygen. Naturskyddsförenigen, the leading Swedish natur NGO, regards PP as harmless and the plastic is recyclable. The bottle is OK with Eco products.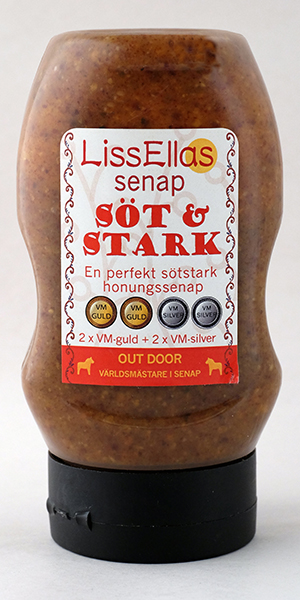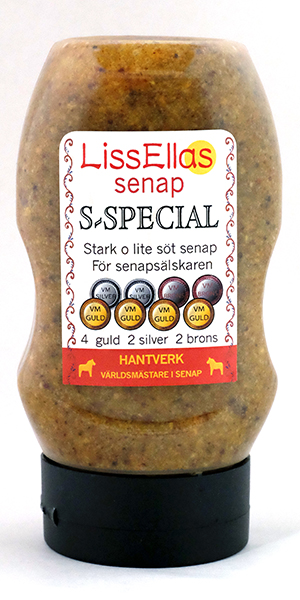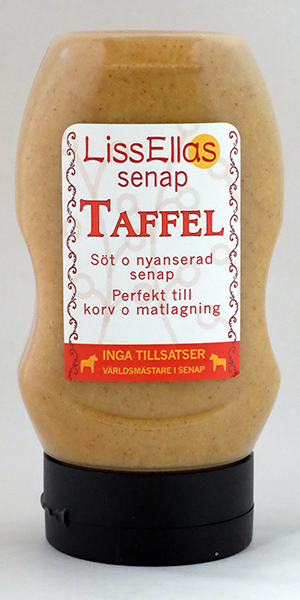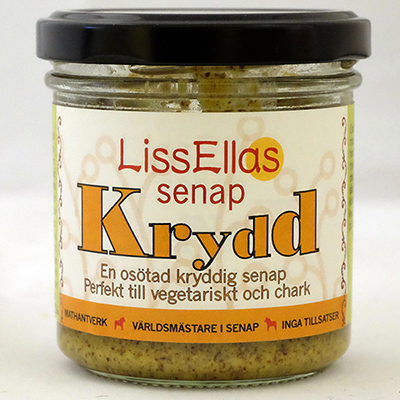 LissEllas Krydd
Unsweetened spicy mustard with a nice taste. Here you will find orange, turmeric, black pepper and pomerans. Suitable for vegetarian cuisine as well as for meat.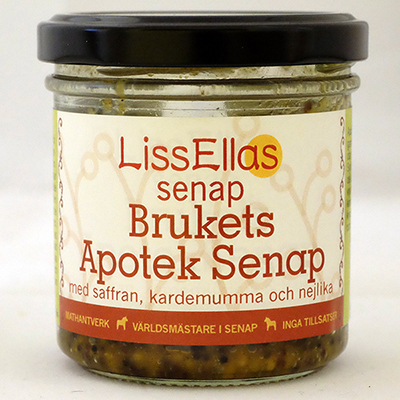 Brukets Apotek mustard
The pharmacy's over 50 year old recipe from the town where LissElla grew up. Tart with honey as part of sweetness and spices such as saffron, cardamom and cloves.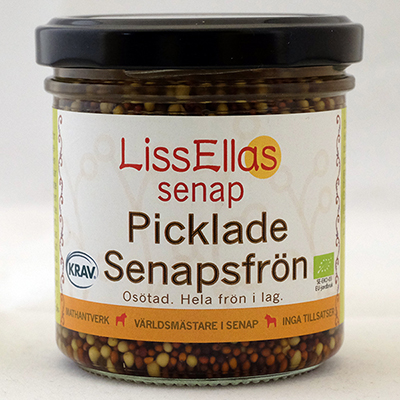 Picklade senapsfrön
Pickled mustard seeds, unsweetened. When we did not find a mustard seed that tasted like we wanted for our mustard, we began to cultivate. Now we have seeds from some of our northern mustard crops. ECO certified of course.
Mustard, dressings, sauces, BBQ etc.
with mustard grown in i.a. Dalarna
With a passion for good taste

We always put the flavor in the first room when we create our different mustards. No compromises. No strange additives. Pure raw materials that, as far as possible, are nutritious and organic. Mustard is a fantastic flavoring both in the cooking and as an condiment to the food. Different occasions require different flavors, which is why we develop and manufacture many different types of mustard. Try a new variety, botanize among our recipes specially developed for our mustards and let yourself be inspired!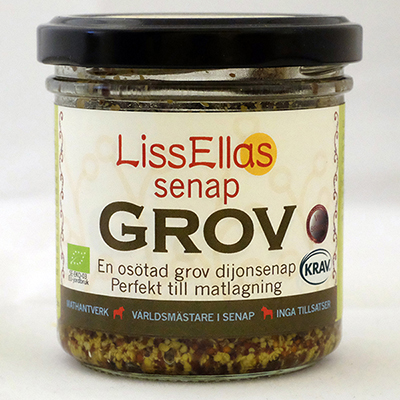 GROV mustard
unsweetened coarse dijon
ECO
Coarsely ground unsweetened dijon mustard that is strong and fruity. Good as it is or in the form of e.g. a mustard butter. Great for use in dressings, meat dishes, vegetables, pots or why not try it in a marmalade or in applesauce.